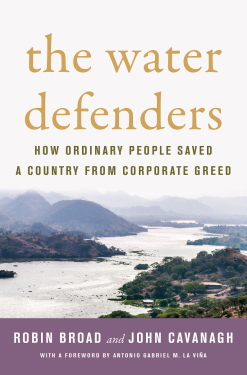 At a time when countless communities are resisting powerful corporations—from Flint, Michigan, to the Standing Rock Reservation, to Didipio in the Philippines, to the Gualcarque River in Honduras—The Water Defenders tells the inspirational story of a community that took on an international mining corporation against seemingly insurmountable odds and won not one but two historic victories. 
"The country is El Salvador, but the setting of this book could very well be the Philippines and other parts of the world where big fights over mining and water rights are happening. The conclusion seemed preordained: With a big transnational corporation bent on exploiting the mineral resources of a developing country, a government that is being pressured to allow such development aggression, and international institutions like the World Bank and the World Trade Organization having rules that are lopsided in favor of the private sector, how could a small group of citizens win against such formidable adversaries? But they did. It took more than a decade, but water won over gold in El Salvador. . . . 
It is interesting to note that instrumental in the victory of the water defenders in El Salvador was the testimony of Nueva Vizcaya's Governor Carlos Padilla, who spoke about his province's terrible experience for decades with OceanaGold, which financially supported (and eventually bought out) Pac Rim in the fight against El Salvador. Water and people won in El Salvador. That is not yet the case in the Philippines where the OceanaGold mining agreement in Nueva Vizcaya has just been extended by President Rodrigo Duterte for twenty-five more years. The publication of this book for a Philippine audience is timely for this reason. Activists and citizens here, as well as their allies in government, can learn from the El Salvador story." 
—from the foreword by Antonio Gabriel M. La Viña
Published in 2021.