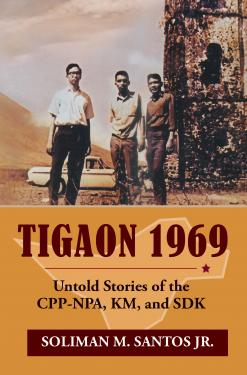 This book reveals heretofore untold stories that led to the Bicol formation of the Commmunist Party of the Philippines– New People's Army (CPP-NPA), based on accounts from such key players as Marco Baduria and Nonito Zape, among other pioneers that primed the soil for a national-democratic revolution in Tigaon, Camarines Sur, in 1969.
Similarly, the author Soliman M. Santos Jr. explores the lateral relevant dynamics between and within Kabataang Makabayan (KM) and Samahang Demokratiko ng Kabataan (SDK), two leading nat-dem youth organizations that had already established chapters nationwide, including in Bicol, by the time Ferdinand Marcos Sr. declared martial law in 1972.
Part radical memoir, the book draws on the author's observations and analysis of collected materials as a former member of the nat-dem movement, as well as his interviews with various cadres whose role in Tigaon has so far been lost to oblivion. Correcting facts about the origins of the movement in Bicol, Santos presents a history from below and reflects on matters of historical work and for progressive change today.
Published in 2023.
Imprint:
Ateneo de Manila University Press