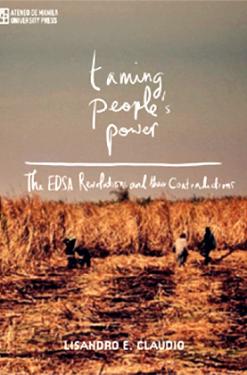 Though this "revolution" has been much written about, it has not been as ably and comprehensively dealth with from the fresh and critical perspective taken by the book. Taming People's Power is an intelligent and pointedly relevant contribution to the understanding of recent Philippine hsitory.
--Resil Mojares, Professor Emeritus, University of San Carlos, Cebu City
In this landmark study, Lisandro Claudio focuses on the uneasy coexistence and intertwining of two narratives that compete to organize the Filipino people's understanding of their recent history: the dominant "People Power discourse" in which Cory Aquino, the Church, and the middle class are the key actors in a democratic revolution, and a subordinated left narrative where radicals and peasants are important players, the EDSA Revolution is a restoration of class power, and Cory Aquino is not so much a democratic heroine as a representative of the landed elite. With his insightful, sensitive handling of the complex interaction of two ideological discourses, Claudio emerges as one of the country's most promising young academics.
--Walden Bello, Representative, Akbayan (Citizen's Action Party), House of Representatives
Published in 2013.