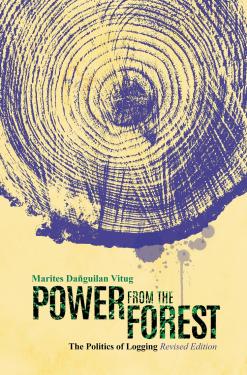 Power from the Forest is the story of logging in the Philippines, the story of the exercise of power—who wields it, who benefits from it, and how. 
         The dangerous intertwine of forests and politics was most glaring under Ferdinand Marcos. In bestowing upon himself the power to grant and revoke logging licenses, Marcos deftly used the forests as a political tool. 
        The insurgency war had bred new logging interests—the rebels and the military who have made the forests their battleground and their sources of income. 
         But amid this gloomy foreboding, there are shafts of light. The Indigenous peoples and rural folk who have lived in or around these forests are starting to stir, as well as a growing number of nongovernmental organizations and concerned individuals. 
        Marites Dañguilan Vitug harnesses her investigative skills to tell us the tragic story of the Philippine forests, the people who continue to plunder them and those who are trying to protect them. Revised and with a foreword by Antonio La Viña, this new edition reminds us that fight for the environment continues.  
Published in 2023.