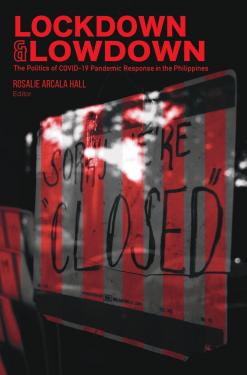 This compendium presents accounts of the COVID-19 pandemic response from the perspective of local governments within the frame of national-local political relations and exigent arrangements under a state of emergency. The specific measures pursued by the government—lockdowns, testing, isolation, emergency assistance, and vaccination—are discussed by examining how national guidelines set by the Inter-Agency Task Force on Emerging Infectious Diseases are carried out by local government units. Simultaneously, the roles of the military, police, and academic institutions present on the ground and the plight of overseas Filipino workers are highlighted to illustrate the pandemic's sector-specific concerns.
These views from the ground elucidate what is political about the pandemic through the accounts of contestation and power play as local governments and agents calibrate responses and accommodate national government logic to their own imperatives. 
Lockdown and Lowdown is a modest attempt to make a mark on the written landscape reviewing the pandemic and to contribute versions of this watershed event from below. 
TABLE OF CONTENTS:
Introduction – Rosalie Arcala Hall
Pandemic and Politics in Metro Manila: Central-Local Relations Collide during a Health Crisis – Cleo Anne A. Calimbahin and Kevin Nielsen M. Agojo
The Emergence of Cebu City's COVID-19 Response: Territorial Dimensions of Power and Authority in Pandemic – Weena S. Gera
Recentralization and Pushback in Pandemic Countermeasures: The Case of Iloilo City – Juhn Chris P. Espia and Rosalie Arcala Hall
Institutional Layering and Interjurisdictional COVID-19 Pandemic Response: The Metro Naga Experience – Mary Joyce B. Bulao and Rolan Jon G. Bulao
Don't Let a "Good" Crisis Go to Waste: One-upmanship in Local Responses to the COVID-19 Pandemic – Julian Thomas B. Alvarez, Jahm Mae E. Guinto, and Joseph J. Capuno
Emergency Powers and the Securitization of the Philippine Government's COVID-19 Pandemic Response – Rosalie Arcala Hall and Duvince Zhalimar J. Dumpit
In the Vortex of a Wicked Problem: Repatriation of Overseas Filipino Workers in Pandemic Times – Francisco A. Magno and Anderson V. Villa
The Role of Academic Partners in Strengthening Local Health Systems to Address the COVID-19 Pandemic: The University of the Philippines' Experience on the Bridging Leadership Framework – Philip Ian P. Padilla and Fernando B. Garcia Jr. 
Conclusion – Rosalie Arcala Hall
Published in 2023.