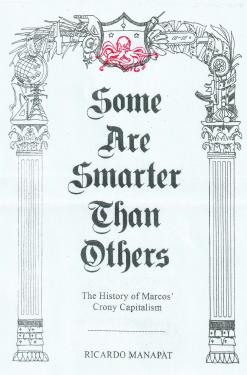 "Some Are Smarter Than Others irrefutably exposed the political and economic infrastructure of plunder supporting the Marcos dictatorship. Yet these are now denied and the unrepentant Marcoses in their manipulation of current politics have led the country again to Martial Law (in Mindanao) and to appalling impunity. 
Ric Manapat exercised not only intellectual passion in research, but always raged at the poverty caused by government-sponsored greed, witnessing its effects on particular persons–urban poor and farmers who were his deep and life-long friends. In producing this book and other projects, he would have been guided by Thesis 11: the point of understanding the world being to change it.
A new generation reading Some Are Smarter Than Others can connect the dots to many of the persons and events of today, and more wisely take the actions needed."
—Karen N. Tañada
"Written 40 years ago in 1979, "Some Are Smarter Than Others" began its life as a 40-page pamphlet that slowly grew in size, and spread, by photocopy and by hand, during the Martial Law years. Today. It remains a living, burning example of how the plain and simple truth can and must become the most potent, persistent, and amplifiable tool against the powerful structures of oppression."
—Angelo R. Lacuesta
About the Author
Jose Ricardo L. Manapat, "Ric", was an activist, scholar, writer, researcher, and educator who was the Director of the Records Management and Archives Office of the Philippines (The National Archives) from 1996–1998 and 2002–2008. He is best known for this book, Some Are Smarter Than Others, which is the classic work on anti-cronyism exposing the Marcos wealth. He was also editor-in-chief of the Smart File, Smart File Magazine Animal Farm Series.
Manapat studied at the Ateneo de Manila University, graduating with a degree in Philosophy in 1976 with departmental honors. In 1980, he fled to the United States in exile. Manapat was pursuing a doctorate in Economics at the New School for Social Research in New York, when he decided to return to the Philippines in 1986, after six years of involuntary expatriation. He completed his master's degree in Spanish at the University of the Philippines, while pursuing master's degrees in Mathematics and History at the Ateneo de Manila University. In 2005, he began his doctorate studies in Historical Sociology at La Trobe University, Australia. He was the recipient of the Commonwealth International Student Scholarship and was awarded the DM Myer Medal as the most outstanding undergraduate student in 2006. Manapat passed away in 2008. In 2015, the Republic of the Philippines Human Rights Victims' Claims Board approved reparation and formally recognized Manapat as a human rights violation victim during the Martial Law era.
Note: This is the ebook version. The print version is available here.
Imprint:
Ateneo de Manila University Press