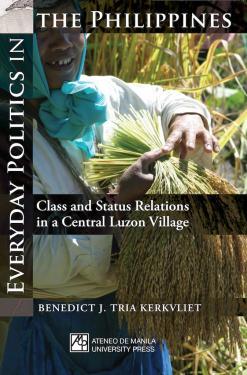 This probing study analyzes the everyday politics of a rice farming village in central Luzon.  Contending that the faction and patron-client relations emphasized by many studies of Philippine politics are but a small part of political life, Kerkvliet offers a nuanced portrait of political relationships among villagers and the people beyond their village with whom they interact.  Villagers' complex political thinking and outlooks figure prominently in their ongoing claims and counter-claims to land, jobs, and other resources crucial for their lives.
Villagers' everyday politics reveals contending beliefs about what is just and who has rights to particular resources.  Furthermore, relationships between people in different class and status positions are far less harmonious than often appear on the surface.  Embedded in villagers' contentious interactions are divergent ideas about how resources should be distributed—the privileged emphasize values supported by capitalism while the poor stress their rights to satisfy basic needs and to human dignity.
Everyday Politics in the Philippines is a masterful study that revises our notions of rural political life and of politics generally.  It is a distinguished work of scholarship that will appeal to a broad range of social scientists.
The foreword was written by Saturnino M. Borras, Jr.
Published in 2013.
Imprint:
Ateneo de Manila University Press