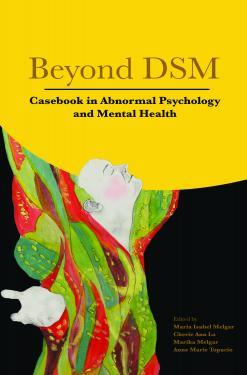 Beyond DSM: Casebook in Abnormal Psychology and Mental Health offers a lens of understanding psychological disorders that is both scientific and sensitive to our Philippine context. Specifically, this first edition addresses the gap in our current roster of learning resources in Abnormal Psychology by bringing the narratives of real Filipinos living with mental health issues to the fore. Additionally, up-to-date research findings from local literature were synthesized alongside existing bio-psycho-social models for each condition, in order to provide a contextualized understanding of mental health.
This book is essential reading for undergraduate and graduate students taking Abnormal Psychology, as well as for psychology practitioners, and researchers with an interest in mental health.
This is also a teaching tool for psychology teachers of Abnormal Psychology and Clinical Psychology.
 
The case method functions as a gateway to a multi-modal, culture-sensitive way of learning for the students, and the use of the casebook can complement the use of curriculum-approved textbooks.
Published in 2018.
Note: This is the ebook version. The print version is available here.
Imprint:
Ateneo de Manila University Press