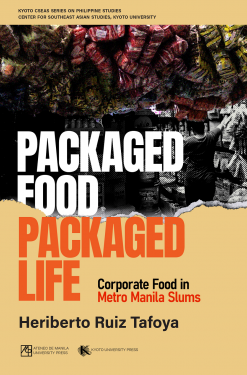 Why are there dozens of food brands—in sachets, bottles, cans, and other packaging—sold in every sari sari store in the slums of Metro Manila and beyond?
Packaged Food, Packaged Life argues that the abundant consumption of corporate brands in slums does not merely stem from individual lifestyle choices but also is the result of historical circumstances that preclude good living conditions and limit opportunities for people who resort to corporate packaged food. Drawing on his own fieldwork and exhaustive review of related literatures, Heriberto Ruiz Tafoya identifies the constraints that characterize a packaged life not as a definitive status but as an ongoing process. His perspective comes from his own experiences as urban poor in Mexico and from the eclectic amalgamation of the Latin American ethical and political approach of buen vivir (living well or life in fullness) and its Philippine counterpart ginhawa (vital spirit that animates our well-being).
The book is a pioneering work on packaged-food diets in the global south, serving as a reliable reference for readers interested in the retail and consumption of processed food especially by marginalized communities.
Contents
Introduction
Part I - Consumption of Corporate Packaged Food
1. Sociohistorical Review of Corporate Packaged Food Consumption
2. Contemporary Consumption of Corporate Packaged Food in Slum Households
3. Corporate Packaged Food in People's Eating Patterns
Part II - Exchange of Corporate Packaged Food
4. Circulation of Corporate Packaged Food
5. Corporate Packaged Food as Gifts
6. Corporate Packaged Food as a Relief during the COVID-19 Pandemic
Part III - Packaged Life
7. Alienation from Nature
8. Packaging Minds and Bodies
Part IV - Unpacking Life
9. Unpacking Life from the Bottom
Conclusion
Copublished with the Kyoto University Press in 2023.
Imprint:
Ateneo de Manila University Press